About Lasansky Studio of Dance
We welcome and encourage a visit to our midcoast, Maine studio in Rockport. For over thirty-five years, children's lives have been enriched through the art of dance in a safe and nurturing environment. Contact us for information regarding our Fall through Spring program, Summer workshops, private lessons, residencies, performances, and for studio visits by appointment, for interested students and their families.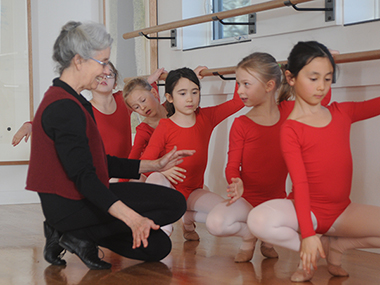 The emphasis of our work is on individual and artistic growth, through a process that focuses on creative and skillful learning. Our small class size offers meaningful instruction and creates the opportunity for children to communicate, express themselves and interact as a group.
As a teaching artist it is exciting to watch the children's journey into self-confidence, imagination, skill and creativity, as through the years, they mature into young, creative and productive adults.
In 2002, as an opportunity for the advanced dance student to focus on the study and performance of original choreography, the Lasansky Dance/Theater Ensemble was formed. Their premiere performance, for the opening of James Wyeth's show, Capturing Nureyev, was held at the Farnsworth Art Museum in Rockland, Maine. Drawing from modern, ballet and theatrical techniques, Lasansky's choreography ranges from solos to septets and is set to a wide selection of musical compositions used with permission. With the commitment from dedicated dancers, the repertoire continues to expand.