Classes & Workshops
Fall – Spring Program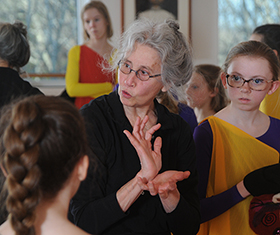 Beginning in the Fall and continuing through the Spring, group classes are offered in Creative Movement, Introduction to Dance, Classical Ballet, Pointe, Modern Dance and Choreography. Classes are taught by Lasansky and accommodate different ages and technical levels. Private lessons are also offered year round in her midcoast, Maine studio.
Students will have the opportunity to develop their dance technique and increase their strength and endurance in a comfortable and artistically nurturing environment. As a group, they participate in the choreographic process, creating dances for their recitals.
Summer Program
Imaginative thought increases children's ability to sense the magic in what they experience. As children explore the inner mysteries of an image, a sound, a word, or a movement, they expand their way of perceiving and knowing our world. Their creative process unfolds.
A variety of alternating workshops, offered during the summer months, include Thematic, Choreography, and Technique Intensives.
Thematic Workshops
Through movement, poetry and the visual arts, children explore their imaginations using a theme such as "Echoes". The emphasis of the workshop is on cultivating our sense of wonder and our desire for attentiveness. As they embark on their journey towards expressing innermost discoveries, they ask questions, share thoughts, and explore feelings.
Part of the sessions are held outdoors in the gardens, where the children can make initial observations and gather materials. In the studio, the children develop, explore, and play with ideas. The works of art created thus reflect the journeys taken, paths chosen, interests, intrigues, and the children's own perspective and understanding of the theme. An exhibition of their art work, an accompanying booklet of poetry and a poetry reading bring the week long workshop in our Rockport, Maine, studio, to a close.
Choreography Workshops
Our Choreography Workshops are geared towards those interested in creating original dances. Each participant is encouraged to explore many sources while developing a movement vocabulary for their choreography. Modern dance technique and improvisation are incorporated into our work, as we experiment with different choreographic methods.
Technique Intensives
Focusing on technique, daily lessons in Ballet, Pointe, and Modern Dance, are offered as weeklong workshops throughout the summer months.