Studio News & Events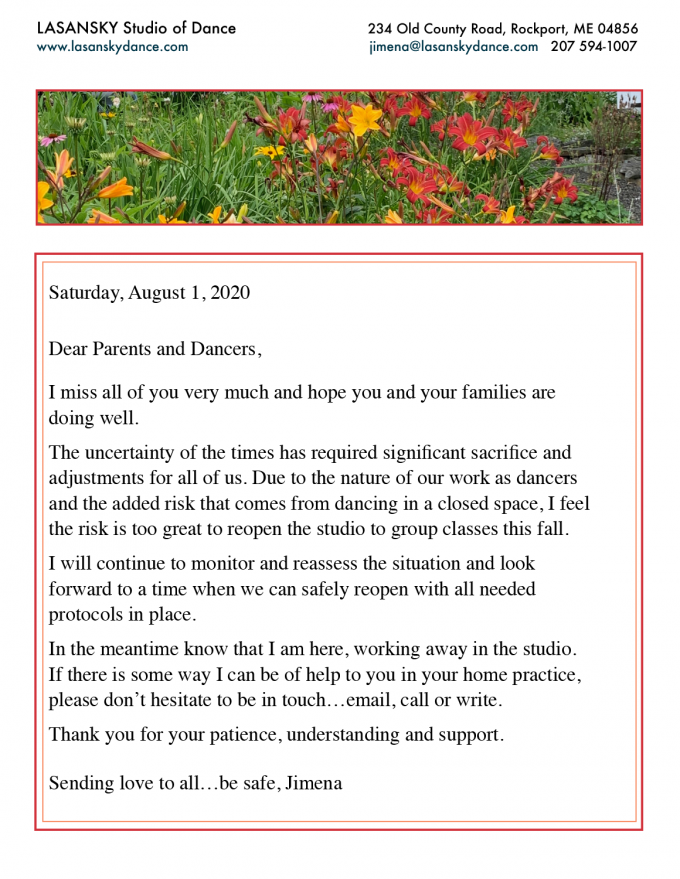 "DANCING TOGETHER APART" is a film edited and arranged by Anja Sofia Churchill, celebrating our love of movement and our shared spirit of adaptation, flexibility and resilience. We thank all of you for sending in your "staying at home" video clips.
Given the Covid-19 situation and the cooperative nature and physical proximity children experience in our workshops, it is with a heavy heart that I have decided not to hold summer sessions.
I will be in touch with our 2020-2021 studio class schedule and calendar as guidelines become clearer and it is safe for all of us to return. I look forward to seeing everyone soon.
Be well, Jimena
2020-2021 class schedule and calendar coming soon
2019-2020 Calendar
September:
Classes begin Monday 9, 2019
All classes in session
October:
No classes Monday 14
November:
No classes Monday 25 through Friday 29
December:
No classes Monday 16 through Tuesday 31
January:
No Classes Wednesday 1
February:
No classes Monday 17 through Friday 21
March:
No classes Monday 16 through Friday 20
April:
No classes Monday 20 through Friday 24
May:
Last classes held on Friday 8, 2020
Private lessons scheduled year round
Contact us for registration information, class schedule and summer workshop updates at jimena@lasanskydance.com